International Communities Liaison Program
International Communities Liaison Program
The City of Bowling Green's International Communities Liaison serves to coordinate the City's role in communicating and working effectively with the diverse international communities represented in Bowling Green, and to serve as an advocate for LEP (Limited English Proficient) persons who may seek City services. This position is an expanded role from a position at the Bowling Green Police Department that begun in 2008 with the overall goal to build positive relationships between the police department and members of the international communities of Bowling Green.
For more information, please contact:
Leyda Becker
International Communities Liaison
Phone: 270-393-3766
Email: leyda.becker@bgky.org
Initiatives
New Americans in Warren County
Warren County was one of 25 communities selected for the 2017 Gateways for Growth Challenge, a competitive opportunity from New American Economy and Welcoming America where local communities receive tailored research on the contributions of immigrants, direct technical assistance to develop multi-sector plans for welcoming and integrating immigrants, or matching grants.
The full research brief is available here.
The Academy for New Americans
The Academy for New Americans is a free leadership-training program sponsored by the City of Bowling Green that empowers New Americans to understand and participate in City Government. The purpose of the program is to provide New Americans the tools necessary to successfully navigate City services, community information and resources in order to become key stakeholders in assisting their respective ethnic communities and neighborhoods.
Information & Application (2019)
Language Access Portal
The Language Access Portal contains resources and tools designed to facilitate interactions between residents with Limited English Proficiency (LEP) and City Departments.
NaturalizeBG
NaturalizeBG is a pilot program sponsored by the City of Bowling Green that aims at increasing opportunities for Legal Permanent Residents living in the City of Bowling Green who face economic obstacles to becoming naturalized U.S. citizens.
If you would like to learn more or apply, visit our program page at https://www.bgky.org/naturalizebg.
ICL 5-Year Impact Report
The International Communities Liaison Division celebrated its 5th year anniversary at the end of 2016. The following report delineates the impact and growth of the International Communities Liaison program over the last five years, January 2012 through December 2016.
Click here to view complete report.
Language Access Services
To ensure that limited English proficient (LEP) constituents have equal access, the city of Bowling Green has taken a pro-active step by providing a number of services throughout all city Departments. Services include telephone interpretation, in-person interpretation, vital documents translation, and training of City employees.
Amigos Resource Network
This is a network group of leaders from the Hispanic/Latino community focusing on the needs of the Hispanic/Latino community in Bowling Green, including the information gap between the community and the services that are already in place, and the availability of bilingual staff at existing resources. The Amigos Resource Network meets the second Tuesday of every month, times and location vary.
The City of Bowling Green International Communities Advisory Council (ICAC)
The City of Bowling Green International Communities Advisory Council was established to advise the International Communities Liaison regarding the needs of immigrant and international residents in Bowling Green. The Advisory Council represents members of our diverse communities and identify issues of concern, important changes in needs of the immigrant and international community and general ideas for improving the City's mission of" strengthening our vibrant community by focusing on quality of life, service delivery, fiscal responsibility, public safety, neighborhood revitalization, visionary leadership, and economic development."
To apply for membership on this council, please view our International Communities Advisory Council (ICAC) Application.
New Neighbor Series
The New Neighbor Series is an educational session for City Staff and Community to learn about the history, cultural traditions, foods, dances and more from specific cultural groups represented in the city of Bowling Green. The New Neighbor Series is held once per year.
The ICL works closely with the respective ethnic and cultural communities to develop the educational session, providing guidance and support. Promotion and advertising for each New Neighbor Series is conducted by the ICL, but each community has the creative freedom to develop its own educational session.
Six New Neighbor Series have been conducted to date: Nepal/Bhutan, Burma, Latin America, Middle East, Bosnia, and Africa.
"La Nuestra" Spanish Radio Program
"La Nuestra" is the only Spanish radio program in Bowling Green, KY. It aired for the first time in May 2012 on WKCT 930AM Radio and it airs live every Sunday afternoon from 3:00pm – 5:00pm. The International Communities Liaison hosts a weekly segment on city services and community information. If you would like to be a part of "La Nuestra," feel free to contact Leyda Becker at 270-393-3766 for more information or "like us" on Facebook at http://www.facebook.com/lanuestrabg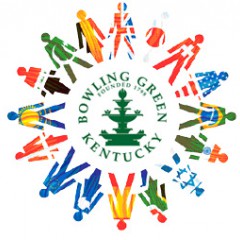 Be sure to signup to receive the latest spanish language news from the City of Bowling Green.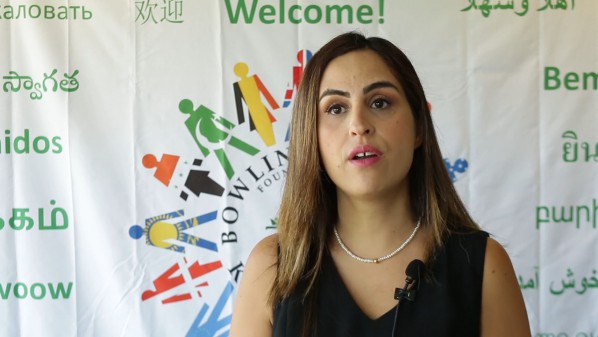 In this edition of Spotlight on Bowling Green, we'll take a closer look at the International Liaison.