Employee Announcements
Results of Fiscal Year 2023 Employee Satisfaction and Internal Services Survey
Aug 4, 2023
THANK YOU to everyone who participated and shared your comments in the 13th annual employee survey. There were approximately 705 surveys distributed (based on the number of FT & PT employees on staff as of mid-July) and 297 responses collected, providing a 42.1% response rate. This is the LARGEST response rate ever received! CHEERS

The information gathered regarding internal service areas is used in conjunction with our performance measurement reporting. There was improvement in the satisfaction with internal services provided as 89.9% of respondents indicated they were "extremely" and "moderately" satisfied for FY23; whereas, FY22 reflected 83.6%. Although, FY22 was a little more evenly split between "extremely" and "moderately" satisfied. The results also indicate 94.3% of the respondents ranked overall satisfaction with your department as "excellent" and "good" compared to 89.1% in FY22. Overall satisfaction with the organization as a whole came in at 96.6% this year compared to 89.6% last year. Consequently, there are still opportunities for improvements to be made. A summary of the survey results are available for your review and reference.
FY23 Summary Survey Results

A comparison of responses over the past 13 years has been updated to show those internal service areas which performed better than others. Most of the service areas reflect a slight decline from FY22 to FY23, although all categories in FY23 received a grade point above a 3.0 (good). This is the first time that the multi-year average scores identify all service areas at or above "good". This year's highest score goes to City Care Center. Five of the service areas surveyed reflect their highest score to date and/or match their highest score from a previous year. Two service areas received their lowest score to date. Fluctuations with results from year to year are common based on the number of responses in a given year. One other area of note, Radio Services received the largest positive change this year.
Thank you again for sharing your opinions and taking the time to complete this year's survey. This was the BEST year ever for employee participation. Your dedication and service to the City of Bowling Green, and especially to your fellow co-workers is very much appreciated!

Katie Schaller-Ward
Assistant City Manager/CFO


Employee Satisfaction & Internal Services Survey
Jul 1, 2023
Dear City Employee:
Your participation in this year's annual Employee Satisfaction & Internal Services Survey is requested. The City is reviewing several of its internal service areas and is seeking your input. EVERY City employee is being asked to complete the FY2023 Employee Satisfaction & Internal Services Survey. The survey allows you to rate your satisfaction with several internal service areas and to provide feedback which will help identify where improvements are most needed and/or help to identify areas in which we are successful. Without your input, it is difficult to measure the City's overall service performance, particularly for our internal customers. Please take advantage of this opportunity to participate in the process.
The survey will remain open through July 31, 2023. Please click on the below link, or use the attached QR Code, to access the survey electronically:
https://www.surveymonkey.com/r/FY23InternalServicesSurvey
A link to the PDF of the survey can be found below if you would rather print out a paper copy to complete. Simply forward the completed survey back to Katie Schaller-Ward through inter-office mail. No names are required.
FY2023 Employee Satisfaction & Internal Services Survey (PDF)
Supervisors, you are asked to forward a copy of the survey to any employees that do not regularly have access to email. You can direct them to the City Employee Home Page (https://www.bgky.org/employee-only) to access the survey link, use the QR Code, or provide them with a paper copy to complete and return to my attention.
Mr. Meisel and all of the Senior Managers greatly appreciate your time and consideration with completing this year's Employee Satisfaction & Internal Services Survey. Your feedback is vital to identify and make necessary improvements for the benefit of all.
Please be sure to provide constructive feedback and to keep your responses professional. This is not a format for personal attacks.
Thank you in advance for your time and contribution!
Katie Schaller-Ward
Assistant City Manager/CFO
City of Bowling Green
1017 College Street
PO Box 430
Bowling Green, KY 42102-0430
270.393.3645 office
270.792.6571 mobile
270.393.3986 fax
Employee Assistance Program
Jun 20, 2023
I just want to do a push on our employee assistance program and make sure everyone is aware of all it offers. Of course it offers the eight free sessions of counseling but it goes way beyond that to provide work/life balance assistance in a multitude of areas including child care, elder care, legal assistance, financial management help, and more. These resources are available to you AND your dependents. I've attached a flyer with their information and will list more of it here. Please do not hesitate to call MaxwellEAP for more information on their programs or myself for more information on city specific offerings.
Counseling
24/7/365 access
Referrals to Licensed Counselors
Free short term counseling (8 sessions per year per issue)
Guaranteed Confidential
Child/Elder Care Assistance
Choosing Child Care
Summer/Holiday Care
Special Needs Child Care
Community Resources
Care for Older Adults
Special Needs Adult Care
Medicare and Medicaid
Caregiver Support
Parenting Assistance
Adoption
Pregnancy and Infertility
Talking to Teenagers
Education Assistance
K-12
Colleges and Universities
Financing
GED/Vocational
Tutors and Test Prep
Daily Living Assistance
Travel and Recreation
Dining and Entertainment
Consumer Issues
Pet Care
Community Resources
Legal and Financial Issues
Health and Wellness
Career Assistance
Skill Building and Career Training
Co-Worker Relationships
Transition and Relocation
Thanks for reading!
Kirsten Homer
Benefits Coordinator
Human Resources & Risk Management
Bowing Green Police Department celebrates 200 years of service
Jun 2, 2023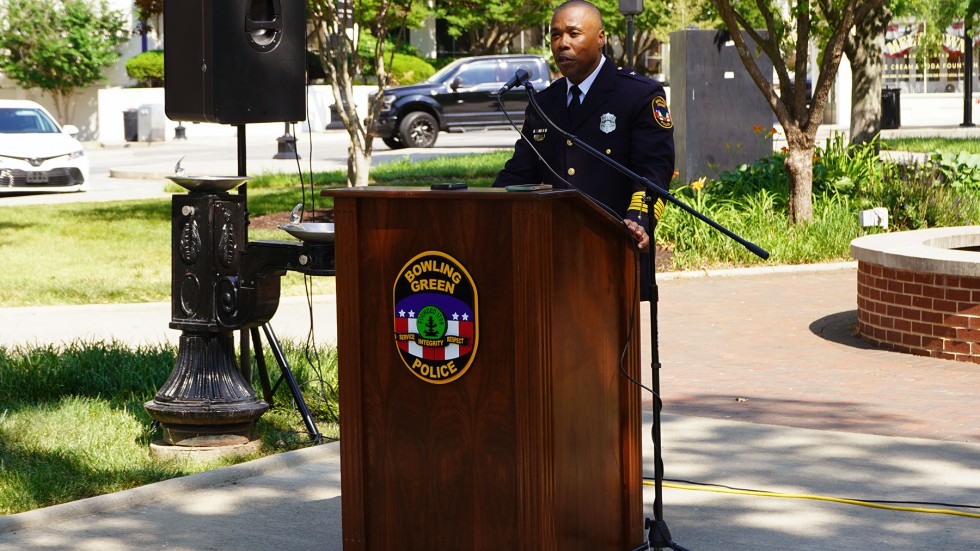 Today, at Fountain Square Park, the Bowling Green Board of Commissioners recognized the Bowling Green Police Department for 200 years of service to the city.
The ceremony began with BGPD Honor Guard presenting the colors as a trumpeter played the National Anthem.
Deputy Chief Penny Bowles emceed the event and told attendees in 200 years, the police department has been served by only 19 police chiefs before calling to the podium the City's 19th Police Chief Michael Delaney.
Delaney first recognized all of the department's retirees in attendance thanking them for their service.
He acknowledged the City's status as the fastest growing city in Kentucky and attributed that growth to the safety of the city.
"(People) want to come to Bowling Green. They want to bring their families. They want to bring their friends because they feel safe," he said.
"Some things have changed over the last 200 years but our commitment to service, integrity, and respect has remained steadfast," Delaney said.
Retired BGPD Sgt. Shane West, the department's historian, provided a glimpse into the history of the department beginning in 1823 with part-time officers, who were called watchmen, to the present day officers serving Bowling Green's 42 square miles of city limits.
State Rep. Kevin Jackson presented the department with a legislative citation.
"No community will continue to grow and prosper if its citizens don't feel safe," Jackson said.
"Chief Delaney it's my honor, on behalf of the Kentucky House of Representatives, to present you and the Bowling Green Police Department with a Legislative Citation for 200 years of service to the Bowling Green Community. Chief thank you, and may God bless you, and the men and women who wear the blue," he said.
Mayor Todd Alcott, flanked by Commissioners Dana Beasley-Brown, Melinda Hill and Sue Parrigin closed out the ceremony with a Proclamation reading recognizing the police department's bicentennial.