Sloan Convention Center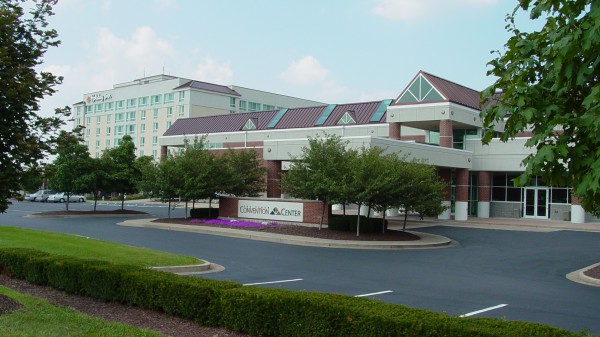 The Sloan Convention Center is a 60,000 square foot facility that has 35,500 square feet of meeting and pre-convention exhibit space. The 19,500 square foot grand ballroom has a reception capacity of 1,500 and can be divided into four smaller ballrooms. There are also six breakout rooms ranging from 350 to 2,600 square feet.
There are a total of 444 hotel rooms in the Hartland Development. The convention center has indoor access to the adjacent Holiday Inn University Plaza. The six-story atrium hotel has 218 rooms, including several suites. The hotel has three salons totaling 4,000 square feet. Across the street from the Convention Center hotels include the Courtyard by Marriott with 93 rooms and the Hilton Garden Inn with 133 rooms. For a complete list of local accommodations, see the Bowling Green Area Convention & Visitors Bureau.
On-site caterer and fully equipped kitchen
Accommodates up to 146 trade show booths
Ground-floor level with concrete flooring throughout entire facility
On-site audio/visual equipment and support
Large complimentary parking areas
Open air patios overlooking CrossWinds Golf Course
Dedicated kiosk for registration and separate coat room and ticket office
High speed internet access through a T1 Internet connection
Location
It is located mid-way between historic downtown Bowling Green and I-65. Safely tucked away from the main thoroughfares of town, the area features the Sloan Convention Center complex with the CrossWinds Golf Course.
The immediate area, the Hartland District features at least seven restaurants, ranging in style from fast food to sports bar, to Asian exhibition, to fine American dining, and shopping opportunities from women's clothing to sporting goods to crafts and home décor.