Facility Information
The 60,000 square foot facility has 35,500 square feet of meeting and pre-convention exhibit space.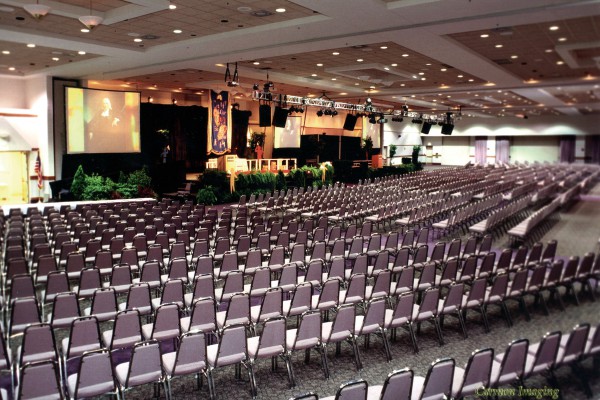 Diagrams/Capacities
Ballroom
The 19,500 sf grand ballroom can be divided into four smaller ballrooms, each with between 4,800 and 4,900 square feet. The ballroom can accommodate:
1,700 theater style
1,500 for reception
1,100 classroom style
1,000 for meals at rounds of ten
Meeting Rooms
There are also six breakout rooms ranging from 350 to 2,650 square feet.
Meeting rooms 1 & 2 can be combined to provide 2,650 sf.
Meeting rooms 3 & 4 can be combined to provide 700 sf.
Extra touches make the 540 sf CrossWinds board room the desired destination for a business meeting of up to twenty people.
The adjacent Holiday Inn University Plaza Hotel has three salons ranging from 988 to 2,052 sf (total of over 4,000 sf), and a 504 sf board room.
Prefunction Areas
The prefunction areas have a total of 10,200 sf and be set up for registration, exhibit space, and meal functions. The main foyer includes a 18' x 13' coat check/storage/work room, 8' x 13' ticket room, and registration kiosk equipped with in-house telephone line.
Booths
The Sloan Convention Center can accommodate a total of 146 10' x 8' booths
Ballroom: space for 100 10' x 8' exhibit booths
Prefunction areas: space for 46 10' x 8' exhibit booths
Ballroom has unlimited floor load capacity
After hours building security.
Other space available.
The convention center owns an adjacent two acre event parking lot, which can be used for special events. Tented functions, car shows, trailer parking, and other special activities can be held on this lot.
The convention center connects directly to the Holiday Inn University Plaza Hotel that has over 4,500 sf additional meeting space.
The Courtyard by Marriott directly across the street has a meeting room with 625 sf.
The Hilton Garden Inn across the street has almost 1,600 sf of meeting space.
Parking
There is no charge for parking at the Sloan Convention Center or any hotel in Bowling Green. Event planners will want to take this into consideration when comparing the cost of holding their event in Bowling Green compared to larger cities.
Guests with Disabilities
The Sloan Convention Center is all on one level, making it easy to get around. It is connected by a ground level covered walkway to the adjacent Holiday Inn University Plaza Hotel. All parking is ground level as well. The management of the Sloan Convention Center and Holiday Inn University Plaza certify that both locations comply with Title III of the Americans with Disabilities Act (ADA) and its regulations and guidelines. For further information or accommodations please call 270-745-0088.
Improvements
There are have been many recent improvements made to the Sloan Convention Center. Check out the list below to see recent changes:
2015

Vinyl wall covering replaced & woodwork refinished
Internet service upgraded
Building exterior repaired & repainted

2012

Digital sound system installed
Pre-function furniture, two dance floors, and 120 round tables replaced
Acoustical sound panels recovered
Door hardware replaced

2011

Carpet replaced throughout building
Ballroom lighting modified / Three section dimming
Meeting room electronic message boards installed

2010

Lobby floor tile replaced
75-ton HVAC chiller replaced
1,800 chairs replaced
Overhead door drapes replaced & motorized track installed
New blackout drapes replaced in meeting room 5
Air walls replaced in ball rooms and meeting rooms
Wider doors installed in front lobby for larger equipment
42 tables replaced

2009

Restrooms completely remodeled
New electronic sign / message board installed on Scottsville Rd.
96 tables purchased / replaced

2008
2007

CrossWinds Boardroom added