Fountain Row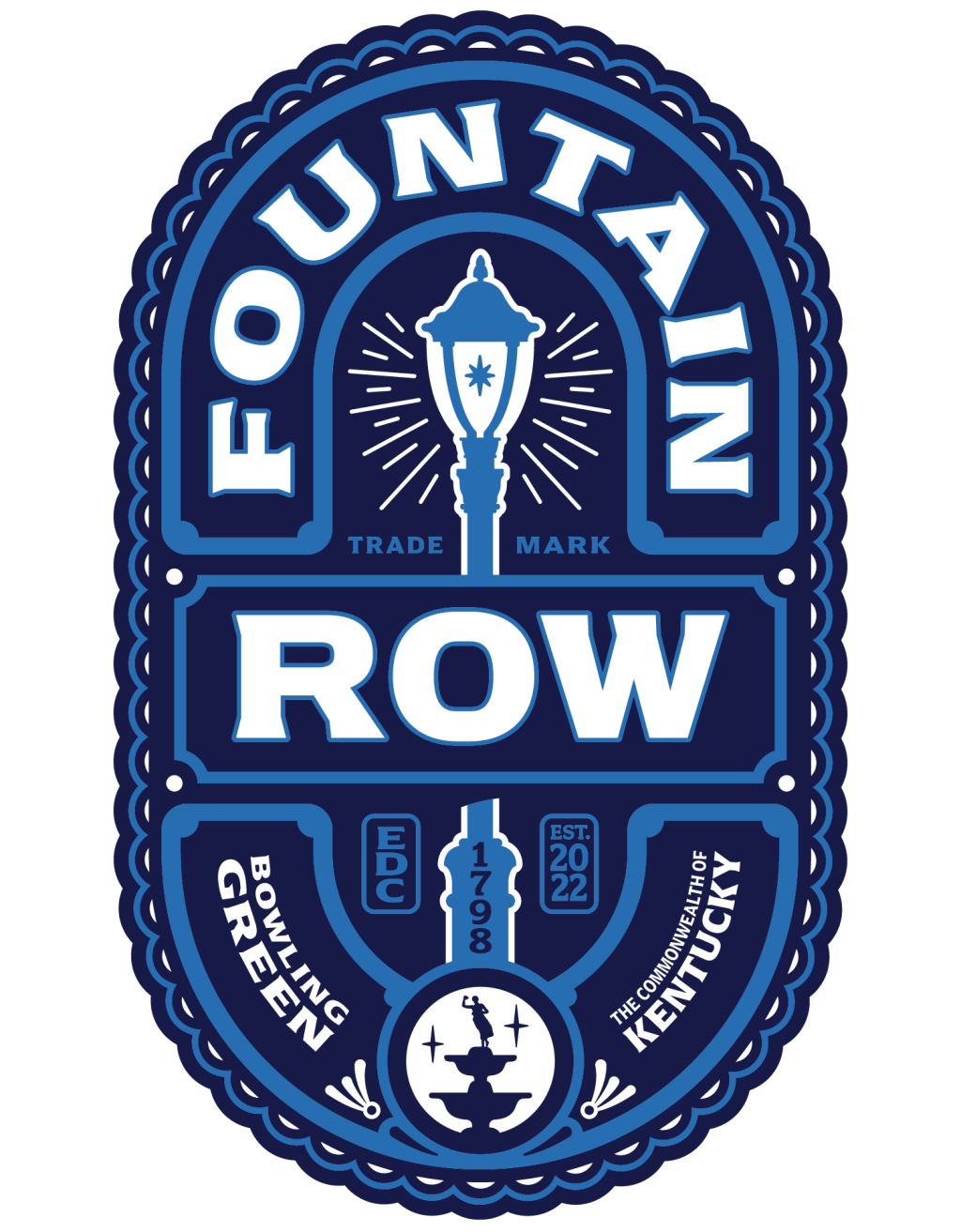 An Entertainment Destination Center in Bowling Green, KY
Fountain Row is an Entertainment Destination Center in Downtown Bowling Green, KY, launched by the City of Bowling Green on July 15, 2022. Fountain Row attracts residents and visitors to explore more in Downtown BGKY. Fountain Row further engages with retailers, venues, restaurants/bars, residents, visitors, special events, and the community overall—creatively offering new amenities and a building a better workforce destination. Downtown BGKY is a vibrant cultural destination, the heart of Corvette's historic hometown, and the hub of Kentucky Cave Country.
Fountain Row provides a boost to local hospitality and tourism industries by allowing customers to purchase and take out alcoholic drinks in designated to-go cups from participating licensed businesses within its boundaries. Fountain Row encourages visitors and locals to explore more of Downtown BGKY's historic streets and parks, window shop, and discover new experiences at outdoor events.
Operating Hours:
Fountain Rows to-go service hours are daily, 11:00 am - 9:00 pm.
Rules:
All participating businesses are designated with distinct Fountain Row window clings and posted rules. All to-go alcoholic drinks must be purchased from a participating business within the Fountain Row boundaries and served in an approved cup. Cups must be carried in public spaces and disposed of before entering any business or exiting Fountain Row boundary. Scan the cup's QR code for a full Fountain Row map and rules.
Boundary:
Fountain Row covers the most heavily foot-trafficked areas of Downtown BGKY. Please see the map below. Signs at the boundaries indicate its entry and exits limits. Welcome informational signs within Fountain Row indicate days and times of operation.
Want to know where to park?
Find free public parking here.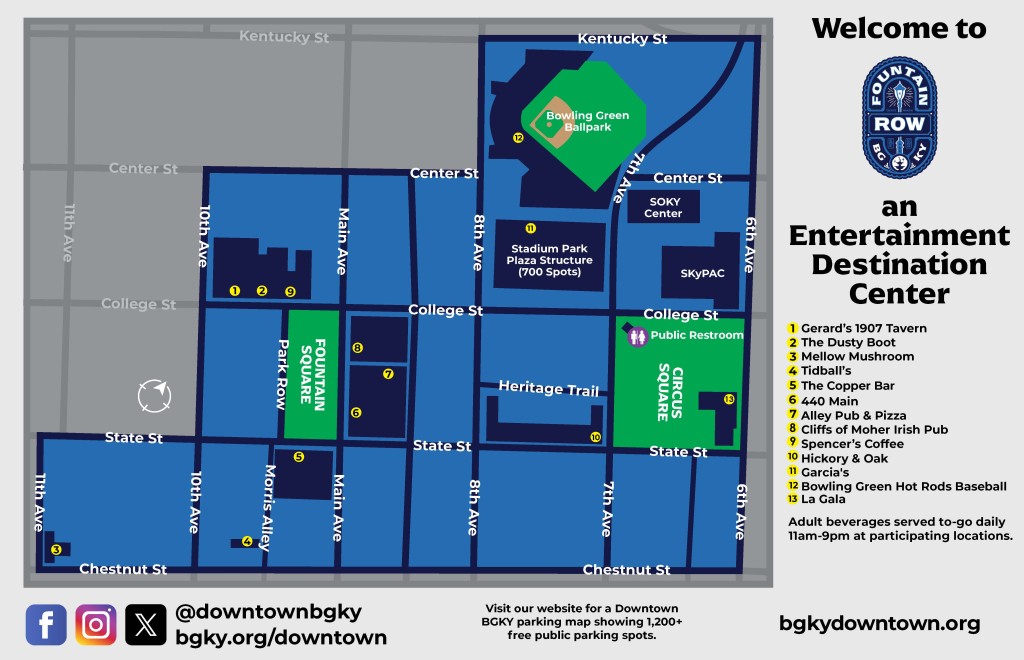 FAQs
What is an Entertainment Destination Center?
In Kentucky, municipalities can establish an Entertainment Destination Center that allows patrons at participating restaurants and bars to leave the premise with an alcoholic beverage in a specially-marked cup.
Where can I have alcoholic beverages in Downtown BGKY?
Alcoholic beverages purchased from a business in Fountain Row must be consumed within the boundaries. (See map)
When are alcoholic beverages allowed in Fountain Row?
Alcoholic beverages are allowed on public property in approved Fountain Row cups daily, 11 am-9 pm.
Can I purchase a Fountain Row cup and put my own drink in it to walk around Downtown BGKY during a special event?
No, only drinks purchased from a participating business in Fountain Row are allowed by state law. No cans, glass bottles, or outside drinks are permitted with the boundaries. Anyone with alcohol on public property not purchased from a participating business during permitted hours or during a designated special event can be cited and/or arrested.
Can I bring my Fountain Row cup back to another event?
No. Fountain Row cups are only permitted for a single use when leaving a downtown business to walk to another location within the area.
What are the repercussions for those exiting the boundaries with alcohol?
Should patrons leave the boundary, they can be cited and/or arrested.
Are other Kentucky cities creating an Entertainment Destination Center like Fountain Row?
In August of 2016, the State of Kentucky adopted legislation allowing municipalities to create local Entertainment Destination Center's in their tourism and convention districts. To date, over a dozen municipalities have passed local ordinances to create these, including Paducah, Danville, Owensboro, Louisville, Lexington, Morehead, Covington, Maysville, Midway, Bellevue, Somerset, Corbin, and the CVG Airport.