Aerobics Classes
Challenge yourself, improve your flexibility, burn off the calories, enhance your endurance and strength. Try one of our many classes to help you develop a leaner, stronger you. Improve your physical fitness, as well as, your mental and emotional fitness, too!
At Your Pace Shape Up
Come and join a low impact class for a great workout. This class does what the title says; you go at your own pace using a wide variety of techniques for a great combination of strength, endurance and balance training. For more information please contact Frank LaManna at 270-393-3232.
Spin
This 30-45 minute spin class incorporates a variety of cycling training. Come experience flat rides, hill climbs, jogs, sprints and jumps. Call the day of class to reserve a bike.
White Light Yoga
This is a wonder mix of meditation and gentle yoga. Appreciation for all body types and skill levels. Join Iajahnni for a deeply relaxing session to relieve stress and promote self-healing.
SilverSneakers (Classic)
Have fun and move to the music through a variety of exercises designed to increase muscular strength, range of movement and activities for daily living. Hand-held weights, elastic tubing with handles and a SilverSneakers ball are offered for resistance. A chair is available if needed for seated or standing support.
SilverSneakers (Yoga)
SilverSneakers Yoga will move your whole body through a complete series of seated and standing yoga poses. Chair support is offered to safely perform a variety of seated and standing postures designed to increase flexibility, balance and range of movement. Restorative breathing exercises and final relaxation will promote stress reduction and mental clarity.
SilverSneakers (Cardio)
Get up & Go with an aerobics class that's safe, heart-healthy and gentle on the joints. The workout includes easy-to-follow low-impact movement, and upper-body strength, abdominal conditioning, stretching and relaxation exercises designed to energize your active lifestyle. Floor exercises are included in the class.
Fencing
The Bowling Green Fencing Academy offers classes and lessons for both beginners and advanced fencers. Ages 7 to adult. Stop by and see us in action or call Coach Fisher for more information (270-991-4038).
Important Reminders:
Aerobic classes are limited to the first 30 participants.
Spin classes are limited to the first 12 participants with bike tags.
Spin class - members may register the day of class by calling the Fitness Facility at 270-393-3582 or in person. You can only reserve one (1) bike per caller.
Your bike will be forfeited to the next person in line if you do not show by scheduled class time.
If an aerobic or spin class has less than four (4) participants for four (4) consecutive classes, it may be removed from schedule.
All aerobic & spin classes will be cancelled in the event that City schools are cancelled due to bad weather.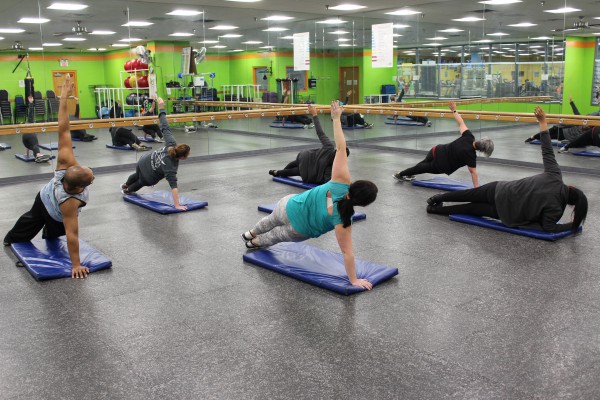 In this video, take a closer look at some of the aerobics classes offered at the BGPR Fitness Facility.