Municipal Golf Courses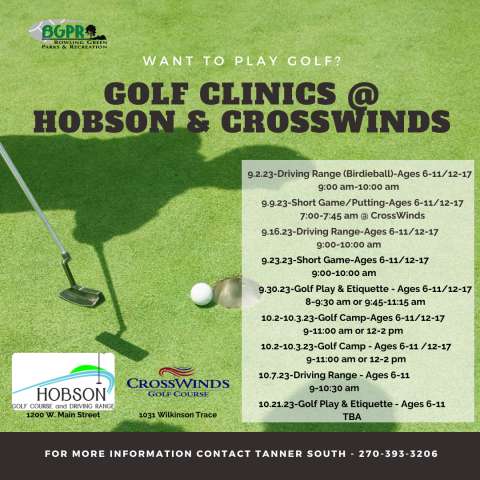 Golf Clinics at Hobson and Crosswinds
Sign up links below
Driving Range | Shortgame | Golf Play and Etiquette | Golf Camp
Welcome to Bowling Green's Municipal Golf Courses
The City of Bowling Green offers three (3) golf courses for you to choose from to hold all of your golf outings, whether it is a few players or a full shotgun:
Our CrossWinds Golf Course offers an "above par" 18-hole course which has over 6,500 yards of Bermuda tees, fairways and bent grass greens surrounded by some of the largest bunkers in Kentucky.
The Hobson Golf Course & Driving Range features a 9-hole course and newly opened Driving Range. It is located next to the historic Riverview at Hobson Grove.
Paul Walker is a 9-hole course nestled in one of the oldest neighborhoods in town and now has Champion Bermuda greens.
Our golfing professionals are experienced and prepared to service all of your requirements, from the initial setup through the scoring of your event. Please do not hesitate to contact our golf professionals at 270-393-3559 or (800) 786-7623 if you have any questions.
Text "GolfBG" to 833-494-0660 for information relating to daily Golf specials, upcoming events, as well as the status of its two courses.
Text "GolfBGWeather" to 833-494-0660 for Notifications about weather related closings at the three courses.
Book a Tee Time at CrossWinds CrossWinds VIP Program
News & Announcements
There have been no recent announcements released for the Municipal Golf Courses.
Contact Us
CrossWinds Golf Course
1031 Wilkinson Trace
Bowling Green, KY 42103
270-393-3559
800-786-SAND
Hobson Grove Golf Course & Driving Range
1200 West Main Street
Bowling Green, KY 42101
270-393-3877
Paul Walker Golf Course
1044 Covington Avenue
Bowling Green, KY 42103
270-393-3821