Pickens Amateur Championship
Pickens Amateur Championship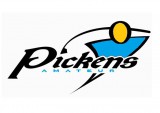 Pickens Amateur Championship
June 24th & 25th 2023
For the past twenty-two; years, CrossWinds Golf Course, thanks in large part to our sponsors - Pepsi, Michelob Ultra, Kentucky 811, John Scott Moving Co, WBKO, Ferguson, A1 Electrical, Oak Tree Awards, ChemDry, Meijer, Montana Grill, and Double Dogs - has hosted one of the largest amateur tournaments in the area. The Pickens Amateur Championship is a 36-hole medal-play golf tournament held annually on the last full weekend in June.
Coach Jim Pickens, who the tournament was named in honor of, was a widely recognized and respected figure in this area. He coached baseball at Western Kentucky University for years and then he directed the Intramural Sports Department before retiring. "Coach" was also well-known for his partnership with Todd Hamilton in covering high school football games for G-107 Radio, as well as rangering for us here at Hartland/CrossWinds for 10 years.
The tournament continues to get bigger and better and we are hoping to improve upon it again this year. This individual stroke play tournament will be open to the first 130 players competing for over $16,000 in total prizes. Prizes will be given to the top 6 finishers in all 6 flights. Every player will also receive a Pickens Amateur Titleist hat and a sleeve of AVX golf balls upon checking in on Saturday. The entry fee also entitles the participant to lunch each day provided by Jersey Mikes.
Jim Pickens Biography Pickens Storybook
Previous Champions
Pickens Amateur Championship
| Year | Winner | |
| --- | --- | --- |
| 2022 | Casey Toley | 136 |
| 2021 | Blain Turner | 136 |
| 2019 | Blain Turner | 134 |
| 2018 | Chase Landrum | 134 |
| 2017 | Jared Brown | 137 |
| 2016 | Jared Brown | 137 |
| 2015 | Brandom Beckham | 138 |
| 2014 | Trey Shirley | 132 |
| 2013 | Trey Shirley | 137 |
| 2012 | Eric King | 134 |
| 2011 | Andy Roberts | 133 |
| 2010 | Josh Matney | 136 |
| 2009 | Jordan Blann | 139 |
| 2008 | Brian Eaton | 139 |
| 2007 | Justin Perry | -4 |
| 2006 | John Kirby | 138 |
| 2005 | Jordan Blann | 139 |
| 2004 | Jeremy Lindsey | 136 |
| 2003 | Jared Topmiller | 134 |
| 2002 | Rodney Norris | 138 |
| 2001 | Adam Gary | |
| 2000 | John Kirby | 139 |
Hartland Amateur
| Year | Winner | |
| --- | --- | --- |
| 1999 | John Mullendore | 140 |
| 1998 | Mike Tinnat | 141 |