Construction Management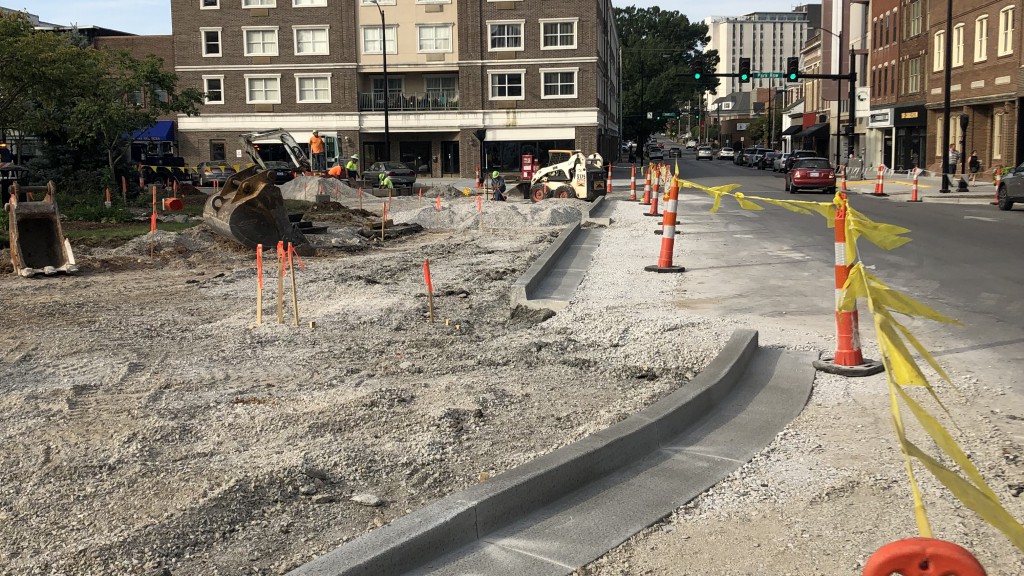 As a result of the rapid growth of the area, the City of Bowling Green has multiple capital improvement projects ongoing throughout the year. These projects include sidewalk and street construction as well as building and park construction.
Corridor Improvements: Phase 2 - Shive Lane (2022-04)
This project will improve traffic flow by widening a portion of Ken Bale Blvd (Formerly Shive Lane) to three lanes, from the roundabout at Ken Bale Blvd. to Middle Bridge Road. A new single-lane roundabout will be constructed at the intersection with Middle Bridge Road to the roadway of Lovers Lane across from Searcy Way. Other improvements will include new curb, gutter, storm sewer, the removal of the existing traffic signals (Lovers Lane / Middle Bridge Road, and Lovers Lane / Fruit of the Loom Drive), installation of a new traffic signal (Lovers Lane / Searcy Way / Ken Bale Blvd), new lighting, and utility relocation. The project has been awarded to Scotty's Contracting & Stone, LLC.
Work has been completed and roadway opened.
FY23 Overlay Maintenance Program (2023-13)
Contract was awarded to Scotty's Contracting & Stone LLC. Lone bidder for the amount of $2,145,365.00. Approximately 13 miles of city streets were paved with this contract. Paving is complete with minor striping work remaining.
College Street Pedestrian Bridge Rehabilitation (2023-22)
The College Street Pedestrian Bridge is located downtown in Riverfront Park and was completed in 1915. This historic truss bridge serves as a pedestrian bridge on the City's greenways network. In 2019, KYTC Bridge Inspection staff performed a bridge inspection that included an arm's length inspection of all non-redundant steel tension members as well as general inspection of the deck, superstructure, and substructure components. Recommended improvements and maintenance actions to various components of the structure were provided to the City.
While the deficiencies found do not pose an immediate threat to the overall stability of the bridge, inspection staff recommended the repair be made in the near future. Additionally, given the interest in developing Riverfront Park, it is anticipated that there will be more pedestrians utilizing the bridge in the near future.
FY2023 - An application was submitted and awarded for a Transportation Alternatives Program (TAP) grant in the amount of $1,600,000. This funding is through the Kentucky Transportation Cabinet (KYTC). This grant program has an 80/20 federal to local match requirement resulting in $400,000 required by the City for this project.
Contractors are actively working to form a 15' concrete encasement wall around the bottom of Pier 1. Contractors are also working to install a containment tent around the steel structure to begin removal of the lead-based paint, clean the steel, and repaint the structure. Access to the pedestrian bridge and boat ramp are closed at this time, due to safety.
2023-35 Westen Street Intersection Improvements
This project will incorporate two roundabouts on Westen Street at the intersections of Patrick Way and at Ashley Circle. The work at Ashley Circle is nearing completion as it has been paved with final surface asphalt and striped. The work at the Patrick Way location will begin with utility relocation and storm infrastructure installation to follow behind that. This intersection will have closures in which detours will be posted when the time comes. Overall project completion is expected to be finished by March 2024.
2023-24 Ashley Circle Intersection Improvements
In an effort to reduce congestion along Ashley Circle near Scottsville Rd., dedicated right turn lanes are currently being added at each approach of Ashley Circle as well as the Ashley St. and Scottsville Rd. intersection. This project also incorporated new traffic signal hardware and various drainage improvements. Construction was completed in July and each intersection is open to traffic.
Last updated on October 11, 2023