EAB Awareness
What is it?
Emerald ash borer (EAB), is an exotic beetle that was introduced to North America from Eastern Asia. It probably arrived in the United States on solid wood packing material carried in cargo ships or airplanes originating in its native Asia. This beetle lays it larvae in ash trees and begin to feed on the inner bark of the trees, disrupting their ability to transport water and nutrients. This eventually causes the host tree to die. Since it's discovery in Michigan and Canada, the insect has already claimed more than 50 million trees and spread through the midwest.
Symptoms & Signs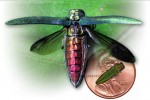 An Emerald ash borer (EAB) grows to be a half inch long and is metallic green in color. You can also distinguish it from other insects by the purple segments that are contained underneath it's wing covers. It usually is most active during summer and early fall, and begins to hide its larvae underneath the bark of ash trees during the fall and winter.
While the insect and larvae may be hard to detect, there are several symptoms that you can check for to see if your ash tree has been infected. Sparse leaves and dying branches on the top of the tree, vertical splits in the bark, as well as an increased activity of woodpeckers, can all be signs of an infestation. You can use the following guide created by the University of Kentucky to help diagnose your tree. And as always, if you find that your tree may be infested, immediately contact your local arborist!
Prevention
Unfortunately, the Emerald ash borer has spread so rapidly over the last few years that eradication is no longer feasible. The best that can be done is to help prevent movement of the insect to new areas. One of the most common ways to prevent it's spread is by not moving firewood. You should make sure that your wood is from local sources and that you do not take your firewood long distances, such as across state lines. Also, by reporting any evidence you find of inspection you will help government agencies help contain and slow the spread of this insect.
Additional Links
You can visit the following links to find more information on how you can help prevent the spread of this infestation: