Traffic Impact Downtown for Walk to End Alzheimer's Sept. 9
Traffic Impact Downtown for Walk to End Alzheimer's Sept. 9
Published:

September 7, 2023

Category:

General

Contact:

Danita Reiger Ward - 270.320.8486

Location:

Bowling Green, KY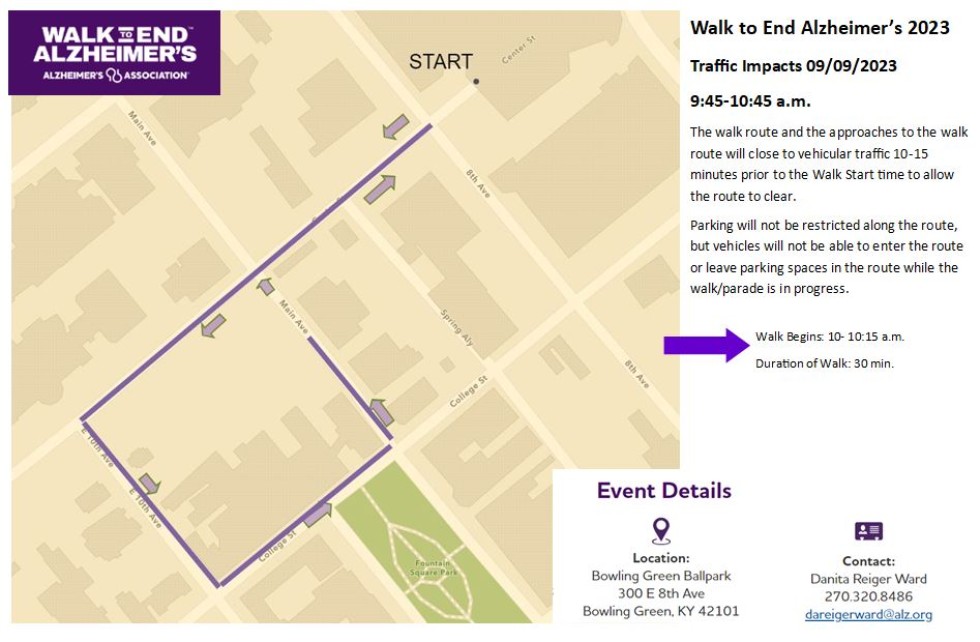 The 2023 Walk to End Alzheimer's will have traffic impacts downtown Saturday morning, September 9 between 9:45 a.m. to 10:45 a.m., predominantly between BG Ballpark and Fountain Square.
The 2023 Walk to End Alzheimer's will begin with registration and opening ceremonies at Bowling Green Ballpark at 300 E. 8th Avenue. The walk itself will begin between 10 a.m. and 10:15 a.m. at 8th and Center, travel Center to 10th Avenue, and then walk a single block on College Street before turning on to E. Main Avenue, back to Center Street and returning to the start.
The duration of the walk from the time it starts should last no longer than 30 minutes. No parking will be removed along the route, so anyone parking along the route should be aware they will not be able to exit their parking spaces until the walk concludes. The course and the approaches to the course will close to vehicular traffic prior to the start of the walk to allow traffic to clear.
Please forward any questions to event organizers at dareigerward@alz.org or call 270.320.8486.
###