Work in BG Campaign Kicks off today
Work in BG Campaign Kicks off today
Published:

September 28, 2021

Category:

General

Contact:

Leyda Becker - 270-393-3766

Location:

Bowling Green, KY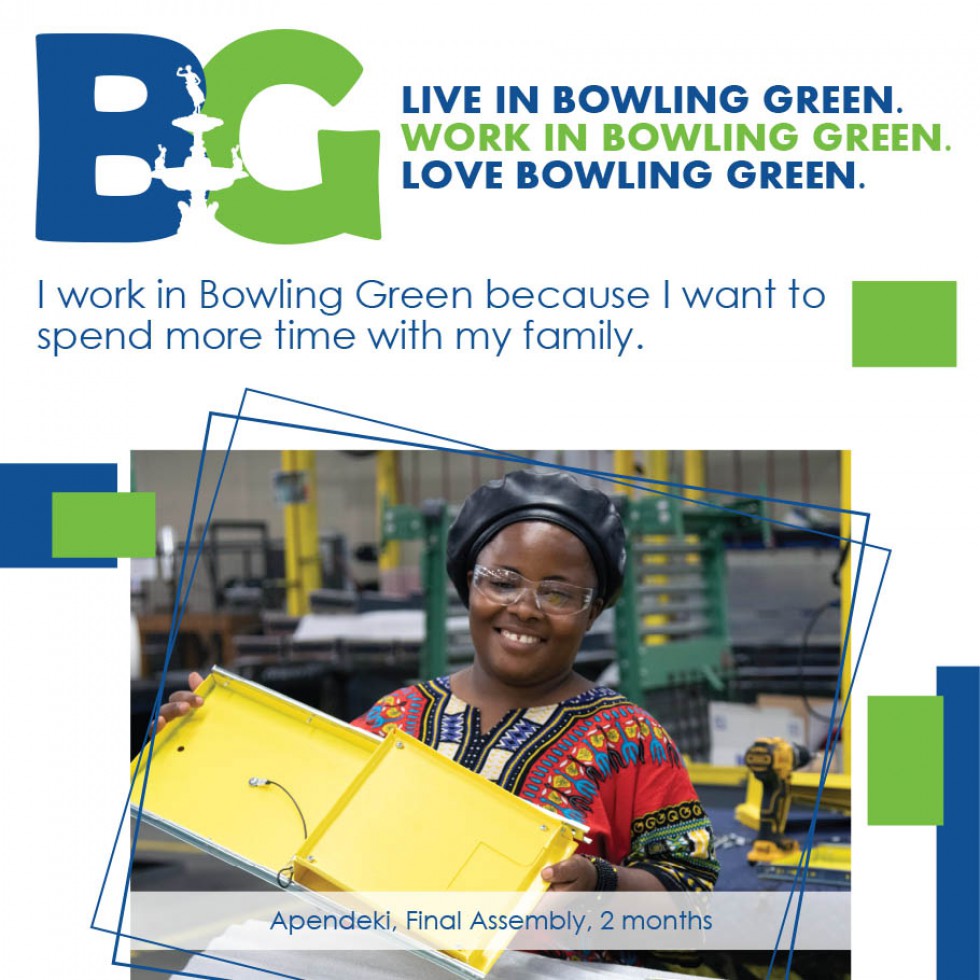 Work in BG, a targeted media campaign aimed at incentivizing the City's New American labor force to apply for local job opportunities kicked off today.
Work in BG, Live in BG, Love Bowling Green, the tagline of the targeted media campaign, was unveiled to the City's International Communities Advisory Council and area employers at a luncheon hosted by the BG Area Chamber of Commerce on Tuesday, September 28, 2021. The media campaign targets Bowling Green's New American labor force who predominantly commute outside of the county, region, and state for work.
The Work in BG Media Campaign, produced by the City of Bowling Green, is a direct response to local employers' demands to increase the pipeline of New American jobseekers applying for local job opportunities. According to a New Americans in Warren County report, while New Americans made up 9.3% of the county's overall population, 25.9% of the employed New Americans living in Warren County commuted outside the county for work in 2016, compared with 14.7% of employed U.S.-born residents.
The campaign consists of :15 and :30 seconds public service announcements, social media posts, campaign logos, and flyers that will be disseminated to New Americans via various social media outlets. "We will rely heavily in the City's International Communities Advisory Council as our primary means of disseminating the campaign," added Leyda Becker, the City's International Communities Liaison. The City of Bowling Green established this advisory committee in 2012 to identify issues and make recommendations to the City for improving outreach and service delivery of City programs and services to New Americans. Members agree to serve as a channel for two-way communications between the City of Bowling Green and their respective communities.
The City of Bowling Green collaborated with the Bowling Green Area Chamber of Commerce and the South Central Workforce Development Board (SCWDB) in creating the campaign. Partners helped identify employers in high-demand work sectors that would feature New American employees. The SCWDB developed a landing page to receive inquiries from potential jobseekers responding to the campaign. Jobseekers can visit the website www.flexbooker.com/reserve/workinbg to receive personal help searching and applying for jobs in Bowling Green.
Since the launch of the multi-sector strategic plan: Building Community and Growing our Economy: A Welcoming Plan for New Americans in 2020, partners and stakeholders are working to advance the twenty-two recommendations made in the plan. The plan centers on building inclusive economies and makes recommendation to promote workforce development services that lead to sustainable employment while meeting the needs of employers.
The Work in BG Media Campaign will run thru the month of October. For more information and/or to access campaign materials contact Leyda Becker at Leyda.becker@bgky.org or call 270-393-3766.