Bowling Green Human Rights Commission (BGHRC)
Bowling Green Human Rights Commission (BGHRC)
Mission
The Bowling Green Human Rights Commission is an agency created by ordinance on August 1, 1966 by the City of Bowling Green. The Commission dedicates itself to opening doors of opportunity, eliminating discrimination, and promoting positive human relations within the community. The overall objective of the commission has been to inform, educate and offer assistance in resolving complaints of discrimination in employment, housing and public accommodation. The Protected classes include: Race, color, religion, national origin, sex age over forty (40), disability or familial status.
Functions:
To receive, initiate, investigate and seek to conciliate complaints alleging discrimination.
To promote mutual understanding, respect and eliminate discrimination among all economic, social, racial, religious, and ethnic groups.
To recommend methods for elimination of discrimination, and secure compliance with recommendations.
To cooperate with various departments, agencies, and boards of the city and the commonwealth in effectuating these purposes.
To enlist the support of civic, labor, religious, professional, educational organization and institutions in community activities and programs that will further these purposes.
To organize community committees and councils that will work toward these goals.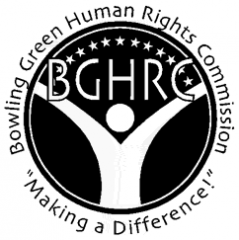 Recent Events
1st Annual Fair Housing Community Neighborhood Celebration
Date: Friday, April 26, 2019
Time: 11:30am - 5:00pm
Location: BG Human Rights Commission Grounds
Free to the public. Food, beverages, games, information, music and door prizes.
Please RSVP by Monday, April 22, 2019 by calling 270-782-7900 or emailing us at chiquitabghrc@gmail.com or bghumanrightscom@gmail.com
Projects
What Fair Housing Laws Means
Equality is your right. Accept nothing less.
The Bowling Green Human Rights Commission provides fair housing information regarding rights and responsibilities of property mangers, owners, and housing customers under the Kentucky Civil Rights Act. To schedule a fair housing workshop call Chiquita Sparks at (270) 782-7900.