Bowling Green Human Rights Commission (BGHRC)
Bowling Green Human Rights Commission (BGHRC)
Mission
The Bowling Green Human Rights Commission is an agency created by ordinance on August 1, 1966 by the City of Bowling Green. The Commission dedicates itself to opening doors of opportunity, eliminating discrimination, and promoting positive human relations within the community. The overall objective of the commission has been to inform, educate and offer assistance in resolving complaints of discrimination in employment, housing and public accommodation. The Protected classes include: Race, color, religion, national origin, sex age over forty (40), disability or familial status.
Functions:
To receive, initiate, investigate and seek to conciliate complaints alleging discrimination.
To promote mutual understanding, respect and eliminate discrimination among all economic, social, racial, religious, and ethnic groups.
To recommend methods for elimination of discrimination, and secure compliance with recommendations.
To cooperate with various departments, agencies, and boards of the city and the commonwealth in effectuating these purposes.
To enlist the support of civic, labor, religious, professional, educational organization and institutions in community activities and programs that will further these purposes.
To organize community committees and councils that will work toward these goals.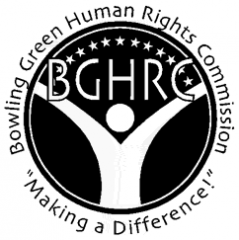 Free transportation service to anyone who is registered for a COVID vaccine in Bowling Green and doesn't have the ability to get to their appointment.
Reservations can be made for a ride by messaging CVT (COVID Vaccine Transport) on Facebook, calling the Bowling Green Human Rights Commission at 270-782-7900, or emailing CVaccineTransport@gmail.com
Individuals will be picked up within four hours of messaging, or calling any of the above options. No transportation is offered on Sundays.
The CVT non-profit was founded by local resident Blake Cleary, in partnership with the Bowling Green Human Rights Commission and Dave's Transportation Services. Dave's Transportation Services is offering two vehicles to assist the non-profit.
The cost for the CVT ride service is funded with donations from M&L Electrical, Franklin Bank & Trust, BB&T Bank, Crocker Law Firm, and Ginger Cleary of State Farm Insurance.
Projects
What Fair Housing Laws Means
Equality is your right. Accept nothing less.
The Bowling Green Human Rights Commission provides fair housing information regarding rights and responsibilities of property managers, owners, and housing customers under the Kentucky Civil Rights Act. To schedule a fair housing workshop call Chiquita Sparks at 270-782-7900.