Bowling Green Human Rights Commission (BGHRC)
Bowling Green Human Rights Commission (BGHRC)
Due to COVID-19 the Bowling Green Human Rights Commission will operate under the following guidelines:
Please call 270-782-7900 to make an appointment to file a discrimination report. We discourage walk in visits at this time.
Complaint forms can be mailed, scanned, emailed, or picked up from the mail slot located on the front door of the office. The staff will assist you by phone in completing your complaint if needed. Language service is also available if needed.
Staff will also be available to notarize paperwork when needed.
Thank You,
Alice G. Waddell, Executive Director
Mission
The Bowling Green Human Rights Commission is an agency created by ordinance on August 1, 1966 by the City of Bowling Green. The Commission dedicates itself to opening doors of opportunity, eliminating discrimination, and promoting positive human relations within the community. The overall objective of the commission has been to inform, educate and offer assistance in resolving complaints of discrimination in employment, housing and public accommodation. The Protected classes include: Race, color, religion, national origin, sex age over forty (40), disability or familial status.
Functions:
To receive, initiate, investigate and seek to conciliate complaints alleging discrimination.
To promote mutual understanding, respect and eliminate discrimination among all economic, social, racial, religious, and ethnic groups.
To recommend methods for elimination of discrimination, and secure compliance with recommendations.
To cooperate with various departments, agencies, and boards of the city and the commonwealth in effectuating these purposes.
To enlist the support of civic, labor, religious, professional, educational organization and institutions in community activities and programs that will further these purposes.
To organize community committees and councils that will work toward these goals.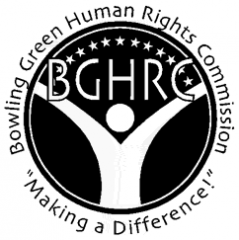 Events
28th Annual Women of Achievement Awards (Postponed)
Women's History Month annually highlights contributions of women to events in history and in contemporary society. As we celebrate the 28th anniversary of our "Women of Achievement Awards," we declare this our year to stand even stronger than we have in the past. The 2020 Honorees represent many diverse backgrounds, each having made her mark in different fields. Additionally, the work and influence of each Honoree has made a profound and positive impact in our community and has paved the way for generations of women to follow.
BGHRC will be accepting nominations until Feb. 21st. Nomination forms may be attained online City of BG, BG Human Rights Commission link, and the BGHRC office located at 491 Double Springs Rd., or by fax or email.
28th Annual Women of Achievement Awards: Nomination Form
For more information, please call 270 782-7900.
Projects
What Fair Housing Laws Means
Equality is your right. Accept nothing less.
The Bowling Green Human Rights Commission provides fair housing information regarding rights and responsibilities of property mangers, owners, and housing customers under the Kentucky Civil Rights Act. To schedule a fair housing workshop call Chiquita Sparks at 270-782-7900.