Local Coronavirus Workgroup
Local Coronavirus Workgroup
Published:

March 17, 2020

Category:

Coronavirus Update

Contact:

Kim Lancaster - 270-393-3642

Location:

Bowling Green, KY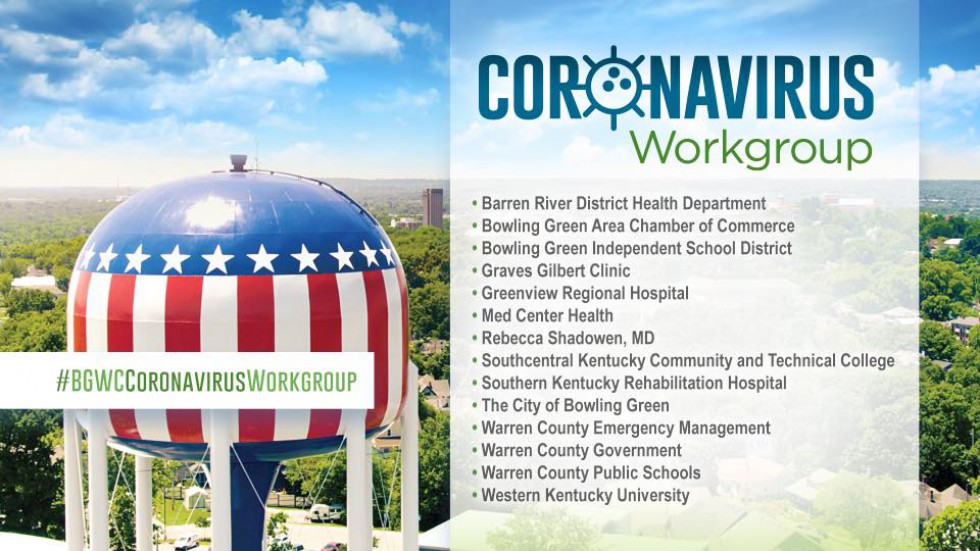 The City of Bowling Green is posting daily updates regarding the COVID-19 pandemic response from our local partners serving on the Coronavirus Workgroup. Please follow all of our social media channels, but especially check us on Facebook at: https://www.facebook.com/citybgky/
On Tuesday, March 10, 2020, multiple agencies met and formed the Coronavirus Workgroup in order to inform citizens and potentially make county-wide decisions regarding the Coronavirus.
This group includes members from:
Barren River District Health Department
The City of Bowling Green
Warren County Government
Med Center Health
Greenview Regional Hospital
Graves Gilbert Clinic
Southern Kentucky Rehabilitation Hospital
Dr. Rebecca Shadowen, MD; Infectious Disease and Travel Medicine Specialist
Western Kentucky University
Southern Kentucky Community Technical College
Warren County School District
Bowling Green Independent School District, and
Warren County Emergency Management
This Workgroup will communicate daily to discuss information relating to the Coronavirus. It is the goal of the Workgroup to disseminate information to the public each afternoon via Facebook, Twitter and Instagram. The information posted daily will serve as direct communication to both the media and to the public.
Additional press releases, press conferences and information may come from any of the individual entities as needed.