Traffic Impact for BG International Festival Sept. 29-30
Traffic Impact for BG International Festival Sept. 29-30
Published:

September 25, 2023

Category:

Traffic Impacts

Contact:

Kim Mason - 270-779-3830

Location:

Bowling Green, KY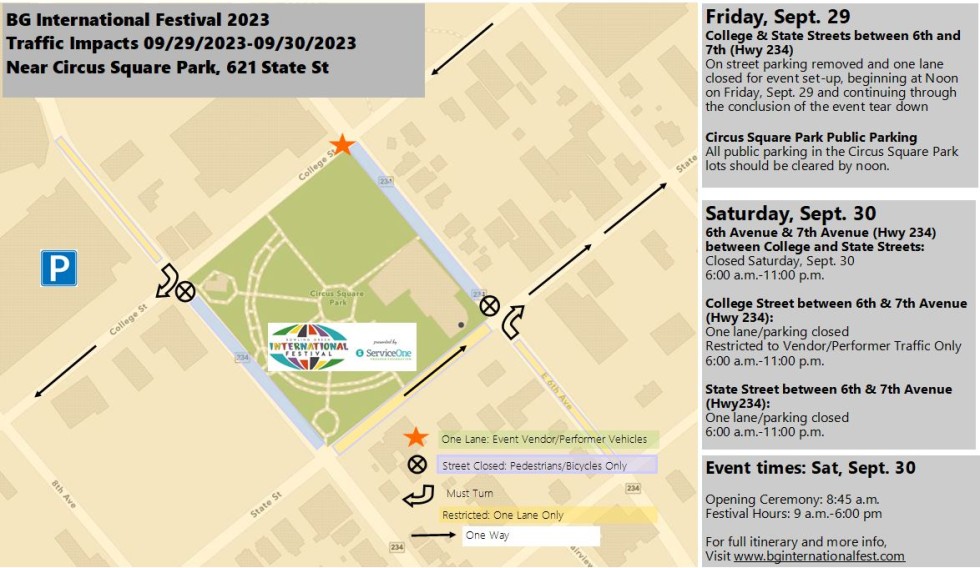 Traffic and parking impacts are planned this weekend for the BG International Festival, beginning with lane closures and parking removal on Friday, Sept. 29 and continuing on with additional street closures adjacent to Circus Square Park on Festival Day, Saturday, Sept. 30. Read on for details.
Downtown Bowling Green will see lane closures and public parking impacts beginning Friday, Sept. 29 in preparation for the 33rd Annual Bowling Green International Festival, which will take place on Saturday, Sept. 30 at Circus Square Park. Additional street closures will begin Saturday morning as early as 6 a.m. and continue through the conclusion of the event and to allow for break-down afterwards. ​
On Friday at noon, parking on State and College Streets between 6th and 7th Avenues will be removed, as well as the parking in the Circus Square parking lots. One lane on both State and College Streets in the same block will also be closed to through traffic to allow for event preparation.
On Saturday morning, as early as 6 am, crews will begin blocking off the 600 block of College Street for festival vendor and performer vehicle traffic only. Both 6th and 7th Avenues between State and College Street will be closed to allow for vendor unloading only before the event starts and for pedestrian safety throughout the day. One lane of State Street will remain open, and detours will be posted.
The Bowling Green International Festival draws thousands of attendees and will have a record number of exhibitors this year, with live performances on three stages from 9 a.m. to 6 p.m. An opening ceremony begins at 8:45 a.m.
Visitors in and around downtown Bowling Green are encouraged to utilize free parking at the Stadium Park Plaza Parking Structure and to check out the downtown parking guide, as there are also pay-to-park lots in the area as well. The pay lots are denoted on the map with black circles on red squares. Please refer to the legend on the map located here: https://www.bgkydowntown.org/wp-content/uploads/2023/07/Downtown-Public-Parking-Map-7.19.23.pdf
For more information about the festival itinerary and impacts, please visit https://www.bginternationalfest.com/ or contact organizers at 270-779-3830.