Commissioner Sue Parrigin
Commissioner Sue Parrigin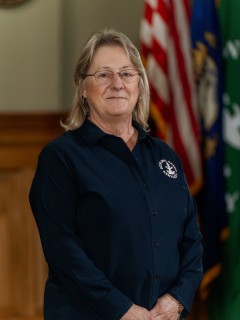 Contact Information
Phone: 270-792-1428
Email: sue.parrigin@bgky.org
Years Served on City Commission:
2015 - Present
Education
Doctorate Degree of Organizational Leadership and Development, Graduate Certificate in Leadership Studies
University of Louisville
Master's Degree in Student Affairs and Counseling,
Western Kentucky University
Bachelor of Arts Degree in Psychology,
Western Kentucky University
Sue Parrigin brings decades of leadership and management experience from owning and operating her own business to working at Western Kentucky University.
Dr. Parrigin is very active in our community serving on many boards and commissions to include the Inter-Modal Transportation Authority, the Warren County Downtown Economic Development Authority, Contractors Licensing Board, Bowling Green-Warren County Drug Task Force, Bowling Green Area Chamber of Commerce Ambassadors Club, Society of Human Resource Managers Board of Directors and the Sloan Convention Center Board, and she was the 2012 Athena Award recipient. Sue is also a 2002 Leadership Bowling Green graduate and a 2011 Leadership Kentucky graduate. Dr. Parrigin is also an appointed board member of the Kentucky League of Cities. She is also the current Mayor Pro Tem for the City of Bowling Green.
Sue is a 2017 retiree from Western Kentucky University and is currently employed as a Leadership Development Consultant. She is married to Lyle Parrigin. The two have been married 40 years and have one son, Lyle, who lives in Nashville with his wife Micah. Sue and her husband enjoy camping, boating, hiking, and traveling.